The PACK sent 4 members to San Antonio for CKIx 2017, and had a great time meeting members from all over the world! But, we also conducted official Circle K business.
The 2017-2018 International board was elected and the results are as follows:
International President: Justin Crofoot (Alabama District)
International Vice President: Eric Yan (Texas-Oklahoma District)
Subregion A International Trustee: Josh Kim (Pacific Northwest District)
Subregion B International Trustee: Banna Tesfay (Southwest District)
Subregion C International Trustee: Trevor Nicholas (Minnesota-Dakotas District)
Subregion D International Trustee: Linda Stevens (Texas-Oklahoma District)
Subregion E International Trustee: Tim Peischl (Ohio District)
Subregion F International Trustee: Karl Uzcategui (New England District)
Subregion G International Trustee: Drew Kelley (Georgia District)
International Trustee at Large: Sebastian Vazquez (Capital District)
Awards were given to deserving recipients for their efforts in the 2016-2017 year, and the PACK has winners!
Outstanding Single Service Project: West Chester University, 3rd place.
Growth Enhances Membership award: Edinboro University, 4th place, Sapphire Division.
Congratulations!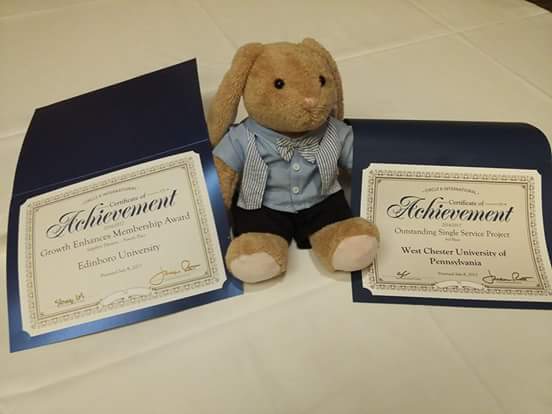 Next stop: CKIx 2018 in Chicago!